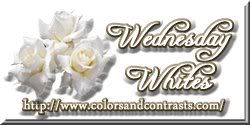 Monday of next week, I'll soon have a 20 months old toddler. Haley has become so active and has learned a lot already. Most often, I tell myself that time really pass by so fast. Not so long ago, she was still wearing this pair of White baptismal shoes.
Not so long ago, she would easily cry or smile for reasons she can't really tell yet. Now, she can already say words though most we cannot understand yet. But for me, her mother, I know when she's hurt, I know when she is hungry, I know when she's sleepy and even when she wants to go outside. I can understand her language and I am glad I do. I wouldn't have if I'm still working. I am honestly hesitant when I resigned from IBM, it was really a tough decision to make. With all the benefits we were all enjoying, I had to think about it hundreds of times. My daughters are the reason why I had to give up working. It is true that it's quite hard that I don't earn the salary I was receiving then but I can say that the hugs, kisses, smiles, thank yous and sweetness both my daughters are giving me are enough as salary for me.
This is Roey now. Playful, and sometimes really silly. I'm glad I decided to be with her and Ate K. Advance happy 20th month my sweetie pie.
Thank you Ninang Irish for the Berry cute tee and shorts. Mwah!